Quick Meal (Approx 20 mins)
Children Friendly
Multi Cuisine Versatile
Serves 2-3
This can be a raw dish, mostly raw dish or lightly cooked… its an all round versatile family favourite that makes a super quick lunch and a great addition (with slight changes) to a wide range of veganised and healthified cuisines from Mexican, Lebaneese, Chinese, Indian…
It began life as our Classic Rice Salad, a favourite with our growing son that guaranteed he ate his veggies… lots of fresh veggies (diced carrot, peas, chopped green beans, spring onions and sweet bell pepper) mixed in with cooked rice, lightly salted peanuts and a light soy/olive oil dressing.
Slowly we began to mix it up and sometimes have the exact same meal but switching the rice for raw or lightly steamed cauliflower rice… once that was a firm family favourite too we then started switching the dressing and salted peanuts out for 'healthier' options.
One of my proudest moments to date was when my step-son Harrison, aged 12… suddenly announced that he was hungry and offered to make lunch for us all!!!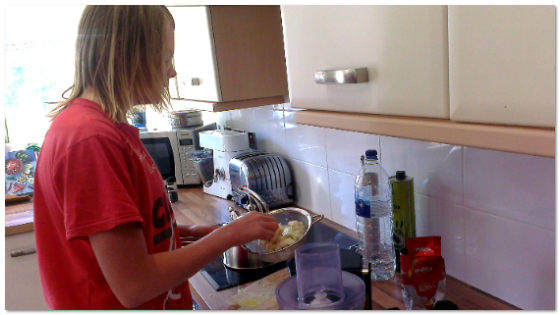 At first, I was dubious… thinking we were all about to be served peanut butter toast but graciously accepted his kind and unexpected offer. I resisted all temptation to go into the kitchen and 'interfere'… even when I heard the food processor being used!! What could he be making all alone in the kitchen…
We had NEVER cooked this meal together and yet clearly our clever boy had been paying closer attention than we ever realised… because not only did he make a perfect classic rice salad, he made a RAW cauliflower rice salad. There were even additional chopped chillis on the side for his old dad!!
And it was DELICIOUS. Such a proud moment
Ingredients:
1/2 cauliflower
1 large carrot
1 Red Sweet Bell Pepper
4 spring onions
Handful frozen peas (fresh is even better)
Handful of green beans
Handful of peanuts
Dressing: Equal Measures of Soy Sauce and Virgin Olive Oil
Method:
Chop cauliflower into small florets and wash (if concern over parasites wash in veg wash, or cider vinegar or lightly boil/steam)… Leave to dry on a clean towel. The dryer the better. If it is wet, it can sometimes taste funky.
Wash and finely chop the carrot, pepper and spring onions… Add to mixing bowl
Chop the green beans into 1cm lengths and pour boiling water over them, leave them to stand in the hot water… if you want a RAW dish, switch these out for sugar snap peas or another green that is good eaten raw.
Pour boiling water over frozen peas, bring to boil then leave to stand in hot water. Again, for a RAW dish try fresh peas for a DELICIOUS alternative
'Rice' the cauliflower in the food processor using the pulse setting until they are the size of rice grains… if you over pulse it will go mushy. Alternatively, just finely chop the cauliflower
Drain the greens and mix all the ingredients together, including additional peanuts or your own nut/seed of choice
Mix equal measures of soy sauce and olive oil together and pour over the veggies
Serve with love and gratitude ?
A Firm Family Favourite:
Cauliflower Rice Salad is a firm family favourite with all the children in our family… with 'thumbs up' and 'licking the bowl clean' seals of approval.
It is best to leave the soy sauce out for young children due to the salt content… My little nephew Albert loved his plain veggie rice. His big brother liked his with a little Chinese 5 Spice and lightly stir fried.